[ls_icon type="fa-beer" size="28px" color="#d76048″]
Its a long one but I thought it would be good to put this up here
Myself and my brother are massive real ale fans, In June we were in Penzance on holiday in June 2014 we spent most of the time visiting the vast array of pubs as we seem to do wherever we go. We stumbled across a family run place called the Crown, fell in love with it and discussed how we would love to open something similar in our home town. Newton-Le-Willows (It sounds posh but it's not)
The business plan was for a Micropub which by definition Is a small freehouse which listens to its customers, mainly serves cask ales, promotes conversation, shuns all forms of electronic entertainment and dabbles in traditional pub snacks' Very different to every pub locally that plays loud music and serves only gas lager. I was well aware there was a demand for what we wanted to offer. Also we only open 4 days a week Thursday through to Sunday.
Fast forward a few weeks and I am walking down our high street and notice the local automotive spares place is closing down (sad but apt) and is up for let, it's in a bit of a state but it's perfect. A few calls later and a lease is agreed in principal and I applied for the relevant change of use and alcohol licence.
On the 1st of September after what seemed like an endless battle with the council our change of use was granted, we got the keys and work started!
The whole setup was DIY / Favours apart from the toilets which were handled by a local joiner.
This is a really high overview of the journey but I thought id share. I look back now and cant believe we turned this round in 6 weeks.
Heres the inside… This is looking down from the front door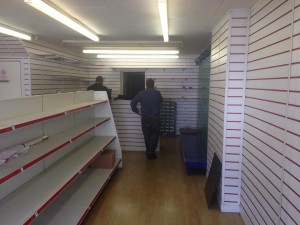 V1 of the proposed layout… we later discovered the doorway to the snug could be widened as it had previously been bricked up.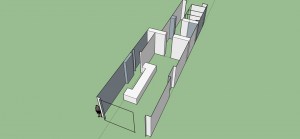 Demolition Begins, at this point we started to find some of the nightmares… Spurs.. of spurs .. off spurs. Luckily we found out we could widen the doorway back out into the Snug
Here is looking towards the front door.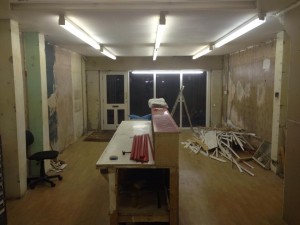 Anyway 3 skips later we had our empty shell… But I haven't shown you the most important part yet – the CELLAR!!. Good beer is all about the end product and musy be stored correctly. As the cellar had previously been used to store car parts it was all tanked out. We had to undo… it ALL!!
This is what will be the beer store … After we got the floor UP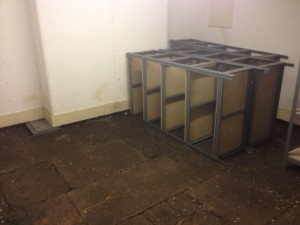 Floor and tanking coming out to show the York stone underneath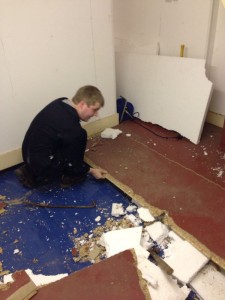 Another surprise dumping ground behind the tanking… on the original stone steps.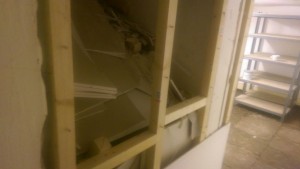 One of the stipulations of the planning was that the whole place should be soundproofed as much as possible. We went with 15mm sound bloc in the end on every wall and double skimmed on the celling.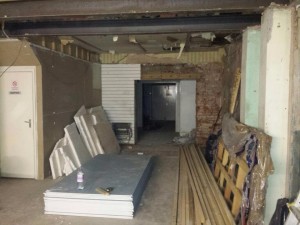 Ceiling going in
We have a BAR!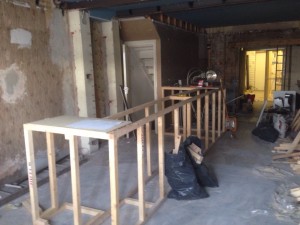 Don't have many pictures of the toilet construction as this was part of the build I had to subcontract out due to time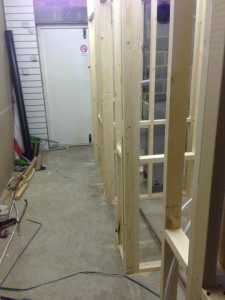 All the fixtures and fittings were done to a budget where possible. All the tops and spaces were scaffold batons planed and sealed.. the bar takes shape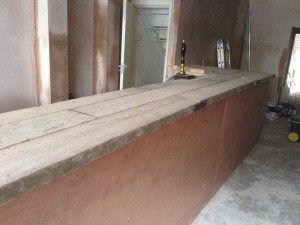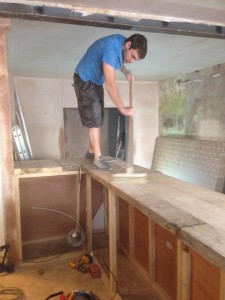 Tiled and bar first fix going in..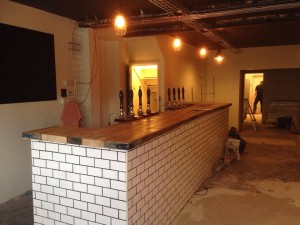 Then Tiled
We installed tray work in the end just to make wiring / CCTV easier as we had no idea where we wanted the lights etc. to go
After what seems like endless late nights and whole weekends (which was only actually 6 weeks!)… the beer finally arrived.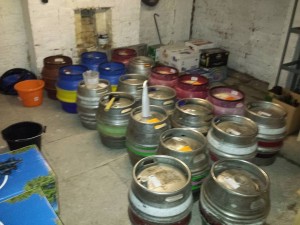 Finished Bar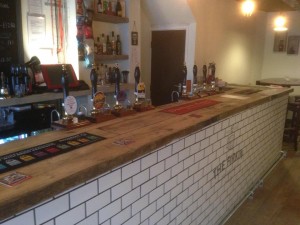 Opening night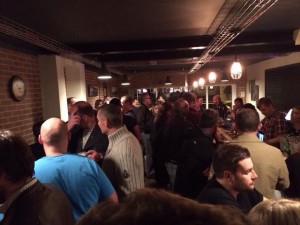 The rest as they say is history, and I feel bad this is only being published now. But it was down the list of priorities 🙁
A big thankyou goes out to all our Fantastic Friends who this wouldnt have been possible without.
Adam B, Mike C, Tim B, Jim H, Quinny and all the others who bobbed in to lend a hand… and of course the beer widows, Lucy and Amy.