A Family Firkin
In case you missed it earlier in the year we made the St. Helens Star…
Simon Mulligan wrote…
THREE men are fulfilling a long-held dream after creating their very own family pub.
In an era when pub closures are becoming the norm, The Firkin, in Newton-le-Willows, is bucking the trend, since opening for business at the end of October.
Brothers Phil and Daniel Cunliffe, along with dad Terry, had for years dreamt of having their own pub but that became reality when they converted a shop on High Street, in the heart of Newton.
"We have never done anything like this before, and the idea came to me and my brother earlier in the year while visiting a fantastic small pub in Penzance, Cornwall called The Crown," says Phil, 27 who is the pub's director, working alongside Daniel and Terry.
He added: "It has been a dream for years but we really only got serious about the idea earlier this year.
"We have all lived in Newton for more than 25 years. The pub has been a massive hit since we opened at the end of October and we have seen people from far and wide visit us.
"People seem to enjoy it as we are offering something different from your typical pub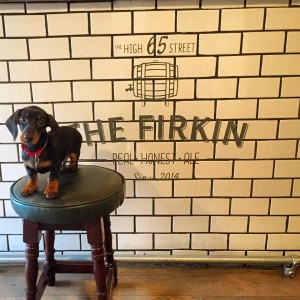 Even dogs love 'The Firkin'
"It has been busy, no two days are the same and a lot of hard work goes on behind the scenes to make sure the end product is perfect!"
Phil, who gave up his job in sales to run the Firkin full time, describes the new pub as a "small, friendly family run venue with a great sense of humour".
He added: "We specialise in real ale and craft beer. No two weeks are ever the same as the beers change every week to keep it varied and fresh."