Top Award (2014)
Back in 2014 we scooped an award from our local CAMRA branch and The St. Helens Reporter popped down to talk to us about it…
TWO ale enthusiasts who brought the modern atmosphere of an urban beer bar to Newton-le-Willows are celebrating a CAMRA award.
Brothers Dan and Phil Cunliffe opened microbar The Firkin on High Street last October and have made an immediate impact among ale drinkers, with the South East Lancs (SEL) branch of CAMRA giving them the prize for 2014's best new cask ale outlet.
Dan and Phil created The Firkin after enjoying the lively ale scene in cities like Manchester and Liverpool and wanted to bring the same approach to their hometown.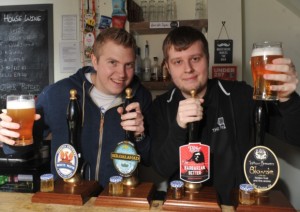 The duo's popularity is based around having a wide range of high-quality ales available, with The Firkin's six handpumps for cask ale, two draught ciders and selection of bottled beers from around the globe about to be joined by two specialist craft beer pumps.
Dan, 30, said: "Our dad Terry brought us up on the real ale scene and we've always been into good beer, and we were on holiday last year in a lovely little pub in Cornwall and I thought we could do that.
"The main focus of the pub is buying local and having everything from small, independent breweries. We want to offer people things they won't get in any other pub on the high street.
"To get a CAMRA award is a really good boost because it lets us know all the decision we've made have gone well. Hopefully we can now keep up the good work and get into the Good Beer Guide, because that is the holy grail for us."
The Firkin, which is located in a former car parts shop, is one of a growing number of microbars and micropubs giving traditional pubs a run for their money in attracting those serious about enjoying good ales and meeting like-minded people.
Dan says the bar's modern look has attracted a varied clientele keen to try out the real ale scene in a different environment to a more established watering hole.
He said: "I'm not a fan of going for drinks and having loud banging music and gambling machines.
"Here you have to come and talk to each other. There's no TV and no music, just beer and good company, and people seem to like that.